Continuing our look at the history of Welsh coaches in the Five and Six Nations, today we analyse the results against England since David Nash was appointed as the first Welsh coach in 1968.
Full record of Welsh coaches against England in Five and Six Nations (1968 to 2021)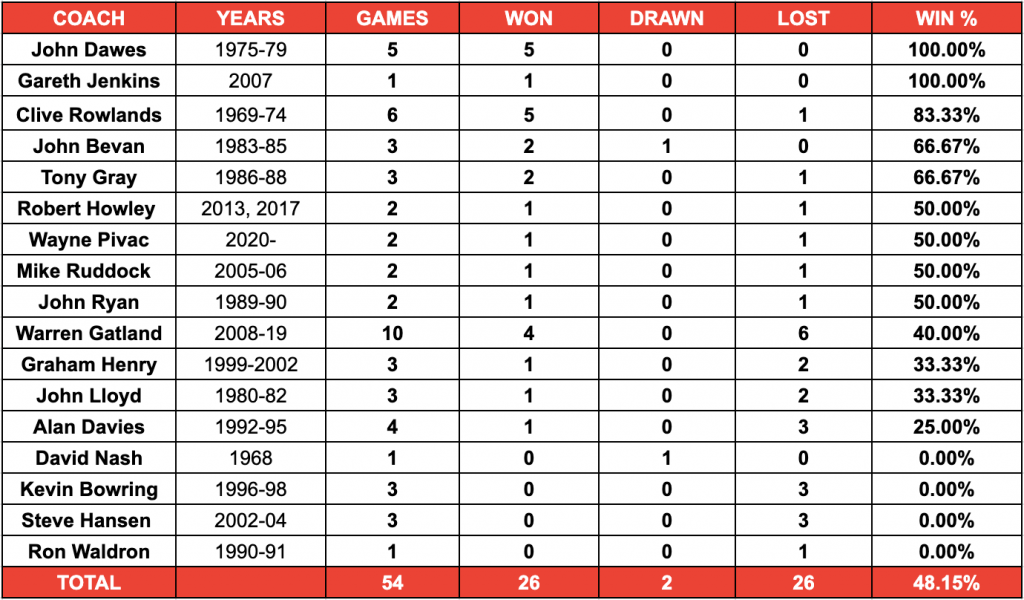 Our previous columns showed that Wales have a 47.17% win rate against Ireland in this period and a 64.81% success rate against Scotland.
The  48.15% Welsh win rate in this fixture is almost identical to that against Ireland in the same period, where the teams are tied on 25 wins each with three draws (there was no match with Ireland in 1972).
Wales just sneak it in the titles and honours department since 1968, with an extra Championship, two more shared titles and one more Grand Slam than England. One figure that stands out is since the game went professional after the 1995 World Cup, England have only claimed two Grand Slams.
WALES in the coaching era (1968-2021)
Championships: 13 – 1969, 1971, 1975, 1976, 1978, 1979, 1994, 2005, 2008, 2012, 2013, 2019, 2021
Shared Championships: 3 – 1970, 1973, 1988
Grand Slams: 7 – 1971, 1976, 1978, 2005, 2008, 2012, 2019
Triple Crowns: 12 – 1969, 1971, 1976, 1977, 1978, 1979, 1988, 2005, 2008, 2012, 2019, 2021
ENGLAND (1968-2021*)
Championships: 12– 1980, 1991, 1992, 1995, 1996, 2000, 2001, 2003, 2011, 2016, 2017, 2020
Shared Championships: 1 – 1973
Grand Slams: 6 – 1980, 1991, 1992, 1995, 2003, 2016
Triple Crowns: 12 – 1980, 1991, 1992, 1995, 1996, 1997, 1998, 2002, 2003, 2014, 2016, 2020
*Don White was appointed as first English coach in 1969, but his first Five Nations game was in 1970. 
Dawes back at top, Gatland plummets
John Dawes  sat atop our Irish stat table (five from five) and Warren Gatland atop the Scottish table (ten out of ten). Against England, Dawes again leads the pack with another perfect return from five games (he never lost as a player in this fixture either), but we see a major drop for Gatland who won just four of his ten games against England in the Six Nations.
Interestingly though, half of Gatland's four wins came at Twickenham, a place Wales had found difficult to win at since the 1970s. The first of those away wins, in 2008, was the first Welsh win at HQ for 20 years and Gatland's first game in charge. Of course, these stats don't include the Kiwi's win in London during the 2015 World Cup. For the record, including the 2015 World Cup game and three non-Championship games, Gatland won six and lost eight times against England.
The only other coach who has a 100% winning record is Gareth Jenkins, but he led Wales for just one match in the fixture (2007). John Bevan is also undefeated in the fixture, but a solitary draw in his three games blemishes his record.
For what it is worth, Jenkins also headed the Welsh team that lost 62-5 at Twickenham in a 2007 World Cup warm up match. After the nine-try humiliation he said: 'Defensively we targeted areas that we actually achieved – we said we had to a make 90% tackle completions and we did.' It's still probably the worst post-match interview in Welsh rugby history.
Clive Rowlands, John Bevan and Tony Gray are the only other coaches apart from Dawes and Jenkins who have won more than half their Championship meetings with England. However, Tony Gray did lead Wales to a win over the Auld Enemy in a World Cup quarter final in 1987.
Once again, former All Blacks coaches Graham Henry and Steve Hansen come out poorly in these tables. Henry took Wales to their famous 'home' win at Wembley in 1999, but then lost the following two clashes with England.
Hansen is one of just four coaches (along with David Nash, Kevin Bowring and Ron Waldron) never to taste a Championship win over the English.
Hansen also suffered a 43-9 loss to a second-string England side at home in a 2003 World Cup warm up match.
Like Hansen, Kevin Bowring lost all three of his Championship games against England. The 1998 debacle at Twickenham, where Wales lost 60-26, summing up the 1990s in many ways.
Ron Waldron had just one crack at England (1991) and, sadly for him, oversaw the first English win in Cardiff since 1963 as Will Carling's men marched to their first Grand Slam since 1980.
Now, go forth and argue about all the numbers.
If you would like to support The East Terrace, please consider buying the following books from editor James Stafford (follow him on Twitter at @jpstafford).
An Illustrated History of Welsh Rugby: Fun, Facts and Stories from 140 Years of International Rugby (Polaris Publishing)
How Wales Beat the Mighty All Blacks (Y Lolfa)
Available in all good bookshops or from Gwales: BUY HERE.