Few major team sports have undergone the transformation rugby has in the past half century. From conditioning and size levels, to on field violence and changes to the tackle law, today's professional version of rugby union is arguably more of a cousin to the amateur game than the exact same sport.
One aspect of rugby that is unrecognisable to anything from before the mid 1980s is the art of celebration.
For over a century, raking the skin off the back of an opposing player lying all over the ball was fine. Overtly showing joy over scoring the winning try for your country was poor form. The unwritten law was that you could give your team mate a pat on the backside, handshake or, at most, a ruffle of his hair to mark his crossing of the opponent's line. But no more. In response, the embarrassed player could offer a wry smile, but he was better off looking at the floor and giving the impression he wished the whole fuss would hurry up and pass.
This is 18 year-old Keith Jarrett scoring a spectacular try on his debut for Wales at Cardiff Arms Park in 1967.
This is Gareth Edwards after scoring what some still consider the greatest try of all time against the All Blacks in front of another capacity Cardiff crowd.
John Scott infuriates the blazers and pressmen of 1980
If you ever wondered what the reaction would have been in this era if a player had celebrated a try with any kind of zeal, you may find this clip and story of interest. In 1980, England won their first Grand Slam since 1957. During that campaign number eight John Scott scored his first (and only) try for his country. This is the moment he scored at Twickenham against Ireland and how he reacted.
For this action he was criticised by members of the RFU. Furthermore, Peter West of The Times condemned Scott's celebration, writing that he had 'struck a gladiatorial pose, ball held aloft in his hand, like some Caesar back from the wars taking his plaudits from the populace, I hope he will consider, on reflection, that he was not just failing to conform to the ethos aforesaid but encouraging every impressionable young player who was watching, whether at Twickenham or through the eyes of television, to believe that it was acceptable behaviour.'
You can read the article below (and it really is worth a read). As an aside, another example of how much rugby has changed is that John Scott (who would later captain England) played his rugby in Cardiff. He moved to the Welsh capital as he knew it would further his rugby education in a way simply not possible in the far less competitive environment of English club rugby at the time.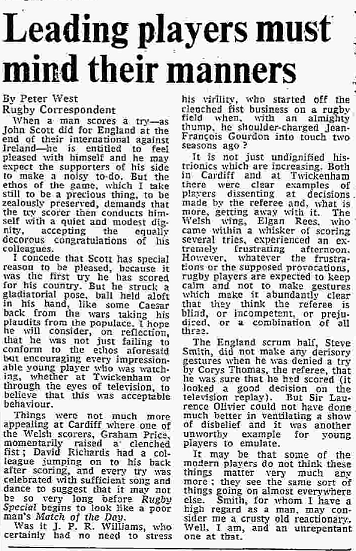 Regular readers of The East Terrace will know we appreciate the more laid back approach to try celebrations, but even we were more than taken aback when reading the words of this unrepentant and self-confessed 'crusty old reactionary'.
One wonders what Mr. West would have made of today's rugby, when scrum penalties (often randomly awarded by confused referees) are celebrated with more visual and physical vigour than Grand Slam campaigns would have been in past days. [The following video will play at the relevant scrum celebration moment].
And we are pretty sure that if Mr. West is looking down on today's rugby football from the press box in the sky, the award-winning reaction of Jonny May to this penalty being awarded to England (which amusingly was reversed seconds later) would probably cause him to raise his own fist in fury.
[Video will play on the May celebration]
Huge thanks to the ever excellent APSM Rugby Channel on Twitter for helping us track down the clip of John Scott's Caesar moment. An essential follow for the rugby history fan.
If you like these kind of insights into the sport's past, I'm currently writing 'An Illustrated History of English Rugby', the follow up to my 2021 Welsh volume (see below). So be sure to follow The East Terrace on Twitter (@theeastterrace) or my personal account (@jpstafford) for more details of this and future books.
If you would like to support The East Terrace, please consider buying the following books from editor James Stafford.
An Illustrated History of Welsh Rugby: Fun, Facts and Stories from 140 Years of International Rugby (Polaris Publishing)
How Wales Beat the Mighty All Blacks (Y Lolfa)
Available in all good bookshops or from Gwales: BUY HERE.