With the 2021 Six Nations in the bag, there will no doubt be multiple 'best of' lists in various newspapers and on countless websites in the coming days. None of these matter. The East Terrace Six Nations Awards are the only ones that do. Read them now and know that they are beyond scrutiny and utterly correct. 
Foreshadowing of the Tournament
Winner: Jacopo Trulla (Italy) v France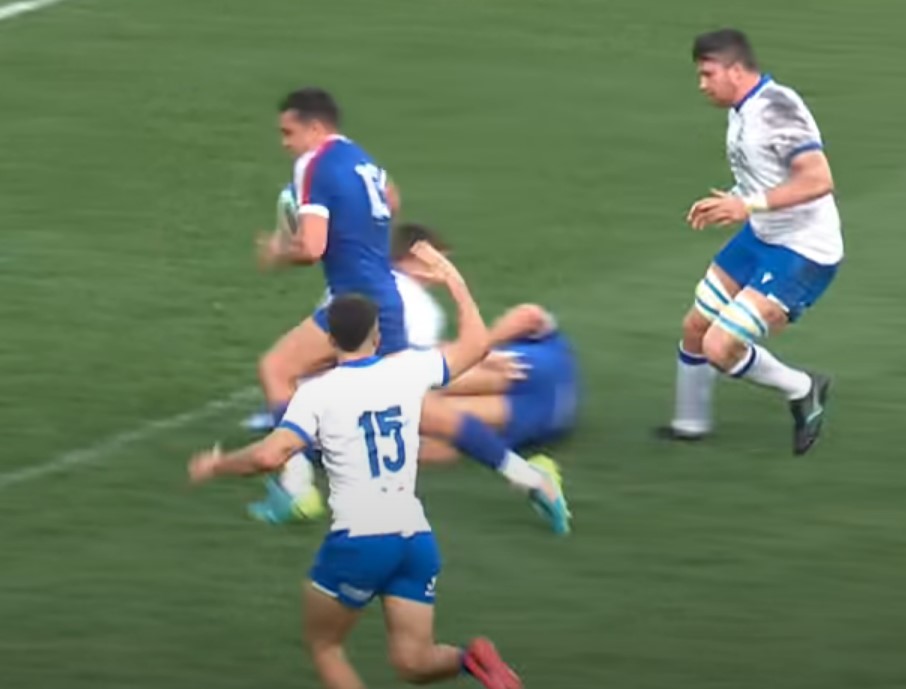 Italian full-back Jacopo Trulla made the most 'visionary' play of the tournament in the opening round against France. His slow and apathetic jog back as Arthur Vincent scored near the posts (complete with wave of the hand to incriminate others at the exact same time it dawns on him he should have sprinted back to try and make another tackle) encapsulated almost perfectly everything that was to come from Italy for the rest of the tournament.
We will be announcing the winners of our #SixNations 2021 awards this Saturday. Defensive efforts like this do not go unnoticed. Stay tuned. pic.twitter.com/Qh3qXnXzTY

— The East Terrace (@theeastterrace) March 27, 2021
Flick of the Tournament
WINNER: Jack Conan (Ireland) v England
 Lovely hands.
☘️ Keith Earls is still up there with the VERY BEST.

Beautiful try from the veteran @IrishRugby winger.#GuinnessSixNations #IREvENG pic.twitter.com/zOVBD6U7lW

— Guinness Six Nations (@SixNationsRugby) March 20, 2021
Best Venue
WINNER: Nigel Owens's Farm
The Union Flag gets less exposure at a UKIP conference celebrating the Queen's birthday than Nigel Owens' farm does in rugby broadcasting. It was everywhere. BBC, ITV, social media, YouTube, official World Rugby videos you had only clicked on to see law discussions…you simply couldn't escape it.
Not even Twickenham had so much air time. You half expected the TMO officials to be based there for all games. 
Mike Pyke Nonchalant Try Scoring Award Tournament Winners
WINNERS: Louis Rees-Zammit and Taulupe Faletau (both Wales)
Louis Rees-Zammit can almost be given a lifetime achievement Mike Pyke Nonchalant Try Scoring Award already. But Wales's Talupe Faletau deserves an honourable mention too. This is the expression you love to see after a try.
The ⭐️ man, Taulupe Faletau with the try for Wales! #GuinnessSixNations #ITAvWAL pic.twitter.com/ByjpM1yEdO

— Guinness Six Nations (@SixNationsRugby) March 13, 2021
Clickbait of the Tournament 
WINNER: Mick Cleary (Daily Telegraph)
Mick Cleary's ranking of the best and worst Grand Slams was a piece of clickbait a Buzzfeed intern would have blushed handing in. Headlined by the Telegraph as an article ranking every Grand Slam ever, it actually missed out the first 23 Grand Slams in tournament history. That's right, 23. Lacking even the most basic research, it listed Shane Williams first try as his one against England in 2005 (it was actually his 22nd). England, of course, won most of the greatest Grand Slams in Cleary's list.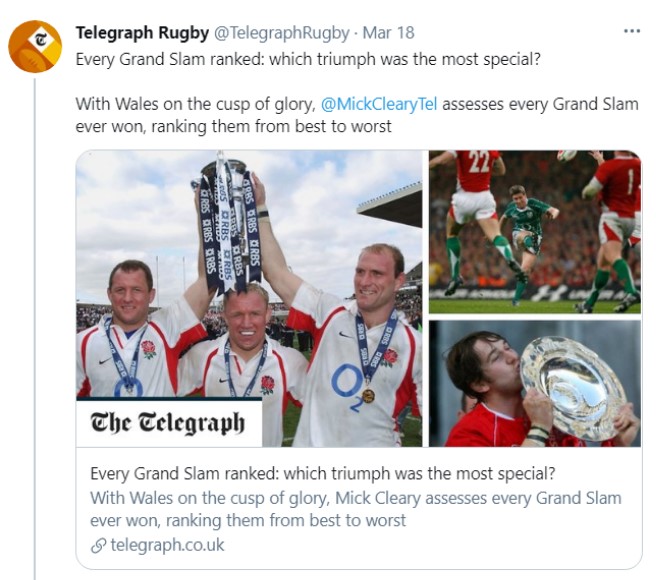 Even neutrals were baffled by the swashbuckling 2005 Welsh Slam being rated 14th of 19. Wales claimed four of the five worst spots, England three of the top five (two of which came in the early 1990s when Ireland and Wales could have been replaced by the San Marino football team with little impact on results). 
Apart from the bizarre rankings the list also focused on 31 years of the Championship. 30 would have at least been a round number. All Slams since 1996 would have at least focused on the professional era. And all Slams since 2000 would have covered the Six Nations era. But no, 31 random years it was. 
In conclusion, the piece was a classic for the ages and is destined to be taught to future content creators as a masterpiece in trolling. Even Donald Trump would hesitate before pandering to an audience so blatantly. 
Existentialist Moment of the Tournament 
 WINNER: Franco Smith (Italy) v Wales (15th minute)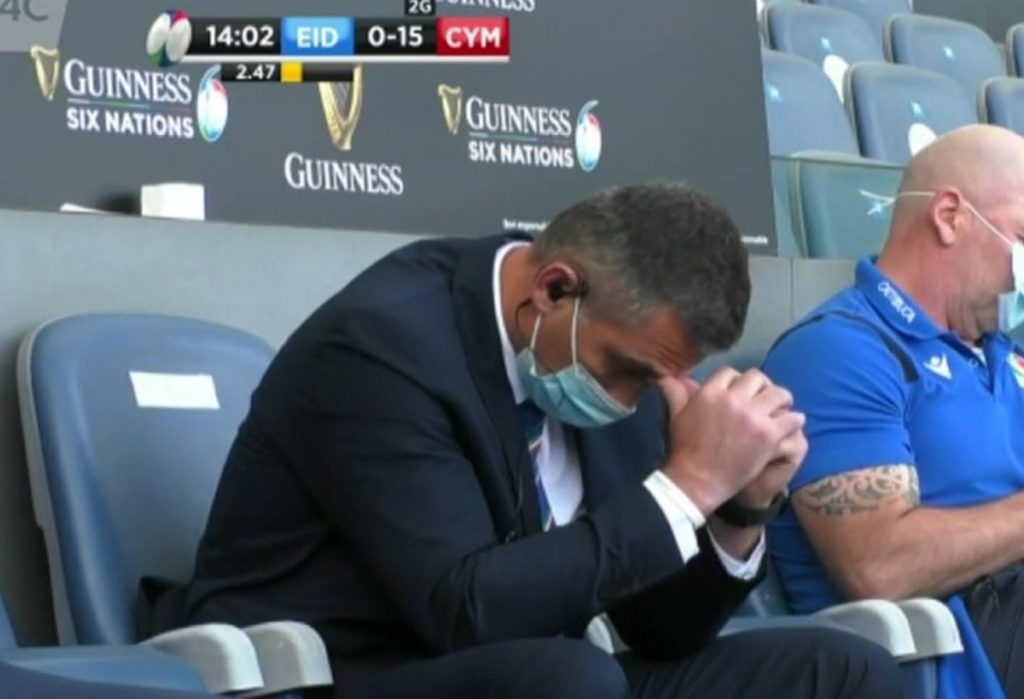 Really Not That Bothered About Trying to Keep the Score Down Award
WINNER: Italy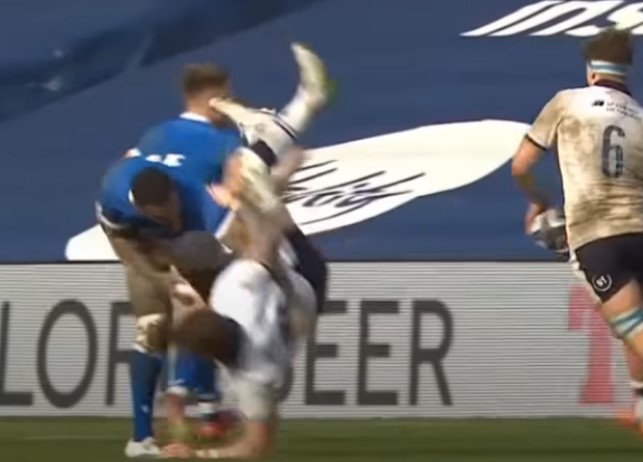 Italy's commitment to making things worse almost has to be admired. Destined to lose their fifth match of the five game tournament, Italy were down to 14 men against Scotland after another yellow card. With the score at 38-10, Monty Ioane decided to carry out a random tip tackle off the ball for fun. No reason. Just for the heck of it. He was lucky to get yellow.
Moments later Michele Lamaro decides to carry out a pointless and reckless charge into a ruck without his arms. He probably only escapes a card from sympathetic refereeing. Both actions were shameful stuff in light of the situation Italy were in at the time. 
Most Annoying Media Trait
Match previews and writes up of a game that are no more than thinly veiled (and lazy) Lions talk. Please, report on the game. Do the 'My Patently Ridiculous Lions XV to Annoy You/Show My Lack of Understanding of the Modern Game' drivel in a separate column. 
Most Annoying Repeated Pundit Error
Journalists and pundits talking as if anything any team does against Italy is anything to take note of. No, scoring lots of tries and running amok against the laziest and most disorganised defence this side of a Rudy Giuliani press conference does not reveal the flair and skilful side of any side. 
Just. Ignore. It.
Daftest Media Prediction 
WINNER: Scott Quinnell
Scott Quinnell loudly proclaimed Wales would be Grand Slam winners ahead of the tournament. What on earth was he thinking?
Most Inspired Media Prediction 
WINNER: Scott Quinnell
Scott Quinnell loudly proclaimed Wales would be Grand Slam winners ahead of the tournament. Had Wales taken the scrum on offer with around a minute left in Paris, this Oracle of Cymru would have been spot on. What insight!
Most Ridiculous Media Take
Several journalists and pundits reacted to defending champion's England's home win over the French like Tonga had just beaten South Africa. This was despite France having failed to win in Twickenham against England in 16 years and all the main bookies having World Cup finalists England as marginal favourites. Good win? Yes. A shock in any way whatsoever? No.
Best Appearance by an Extra From a Straight to DVD 1990's Western
WINNER: Jonny Hill (England)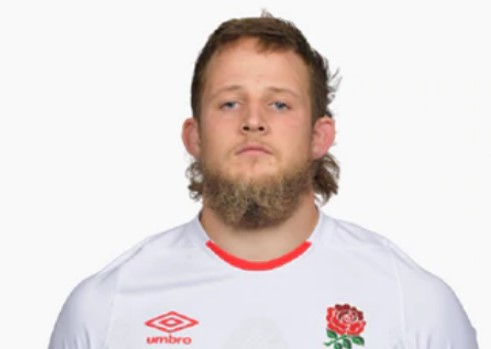 Fashion Award
WINNER: England and Umbro
Quite why a sport so steeped in history attempts so few retro inspired kits is a mystery. England's 150th Anniversary kit was a nice touch, as was the Red Rose used. It was a spiffing follow on from the kit England wore to celebrate 100 years at Twickenham in 2010.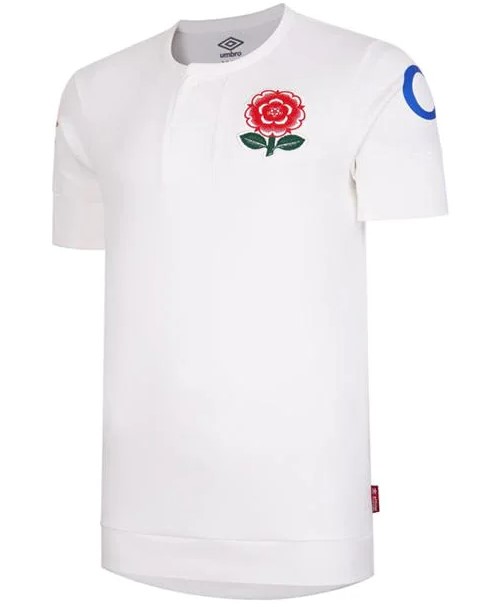 Runner Up: France and Le Coq Sportif
French tracksuit top (or is it an anthem top?).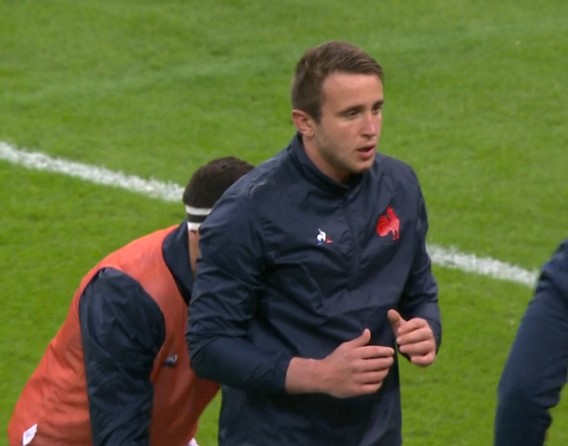 I'm Just Here for the Cash Award
WINNER: Sir Clive Woodward
Sir Clive Woodward's admission he doesn't bother watching much domestic rugby to learn about the international players he is paid to analyse sums up the generally poor state of rugby punditry. You simply wouldn't get away with it in the NFL or many other sports. Rugby should aim higher. 
Doing the Basics of Broadcasting Award
WINNER: Italian Outside Broadcasting Unit
Italy may not have done much right this tournament, but at least their broadcast crew show kick offs, lineouts and restarts. The BBC could learn a lot.
Most Cowardly Example of Doing Nothing
WINNER: The Six Nations Organisers
The tournament organisers' failure to take French coach Fabien Galthie to task for his comment after one of his players was correctly sent off for contact with the eye of an opponent was cowardly in the extreme.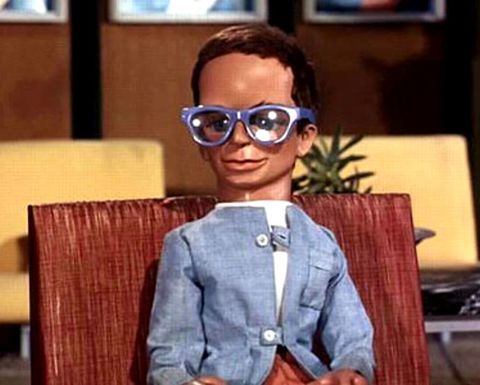 The Waffle Day Trip Organising Coach said: " If you watch the Wales players, it feels like they specialise in making sure opponents get red cards." 
Lack of Self Awareness Award
WINNER: Eddie Jones (England)
Eddie Jones actually complained about negativity in the media. He may, possibly, have spread a bit in his time. 
Food of the Tournament

WINNER: Waffles
Jonny May Unnecessary Celebration Award
WINNER: Jonny May (England)
Inspired by Jonny May's celebration of a penalty (and previous over the top celebration of non-scores), The East Terrace hereby creates the 'Jonny May Unnecessary Celebration Award' as a counterpoint to our Mike Pyke Nonchalant Try Scoring Award.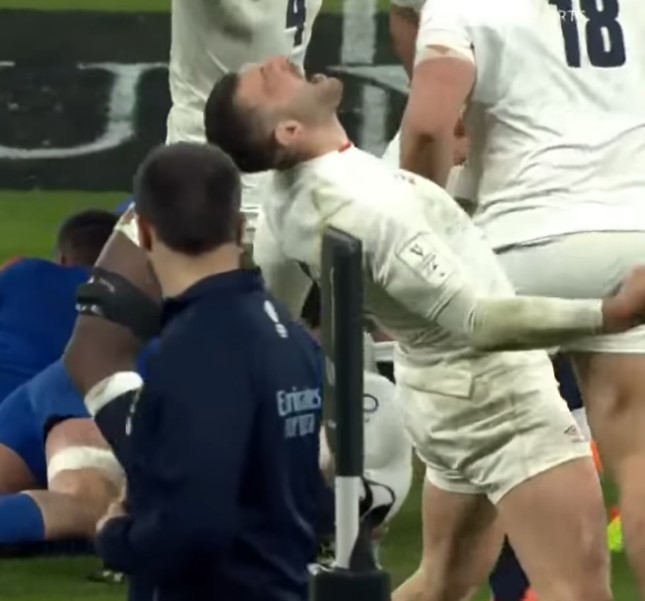 You can view it here (clip should be lined up when you press play):
Most Hilarious Reversed Penalty Cancelling Out a Silly Celebration Award
WINNER: Jonny May (England)
See previous award. 
Most French Camera Angle Award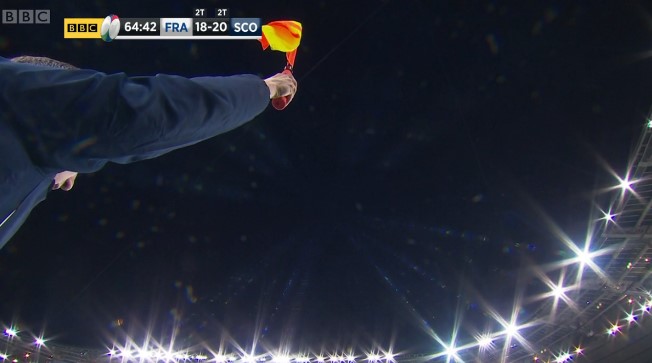 Most Heart-breaking Visual Graph Showing How Close Alun Wyn Jones Came to Eternal Grand Slam Grand Slam Glory Ahead of His Cruel Failure to Claim Eternal Grand Slam Grand Slam Glory
WINNER: The East Terrace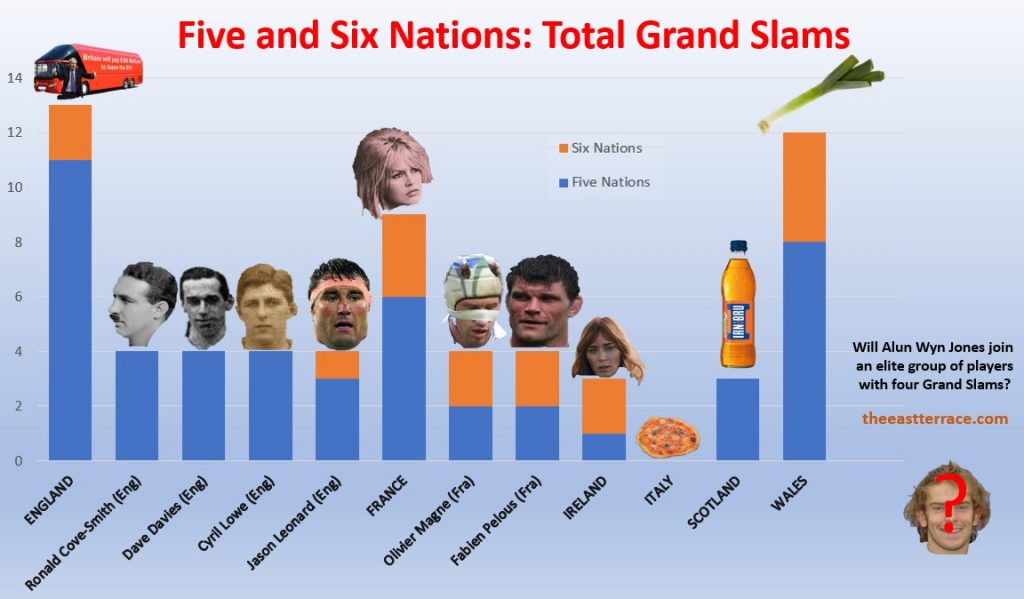 Most Common Question We Got From Football Fans
WINNER: "What, Scotland get a trophy for beating France?"