An Illustrated History of English Rugby: Fun, Facts and Stories from 150 years of Men's International Rugby from East Terrace editor James Stafford and illustrator Raluca Moldovan is out now from Polaris Publishing. It is available as both a paperback and Kindle edition.
The second book in the 'Illustrated History of Rugby' series, it follows on from the 2021 Wales book which sold out and was rereleased in an updated version within a year of its initial release.
The English rugby team has been scrummaging its way around the rugby fields of the world since 1871 and the book takes you on a thrilling journey through a century and a half of glory, failure, mediocrity and brilliance.
Mixing stats and facts with player profiles, match reports and social history, this book is perfect for hardcore and casual fans aged eight to 80. The book is packed with delightful illustrations from Raluca Moldovan, Carys Feehan, Josel Nichols, Ched De Gala and Anne Cakebread.
The book also contains details on every England jersey ever used by the national team, even listing how many times each jersey was worn (as the video below shows).
Today, England redesign their jersey every year or so. In my 'An Illustrated History of English Rugby' book from @Polaris_Books, I've logged every shirt England have worn since 1871 to the present day.

Jersey art by @AnneCakebread. pic.twitter.com/jmBZUizZLT

— James Stafford 🇺🇦 (@jpstafford) March 10, 2023
You can hear Stafford discuss the book on a recent episode of The Saints Show on BBC Radio (the interview starts at 49.21).  'An Illustrated History of English Rugby' is available in all good bookshops and via online sellers. Get your copy now and support The East Terrace.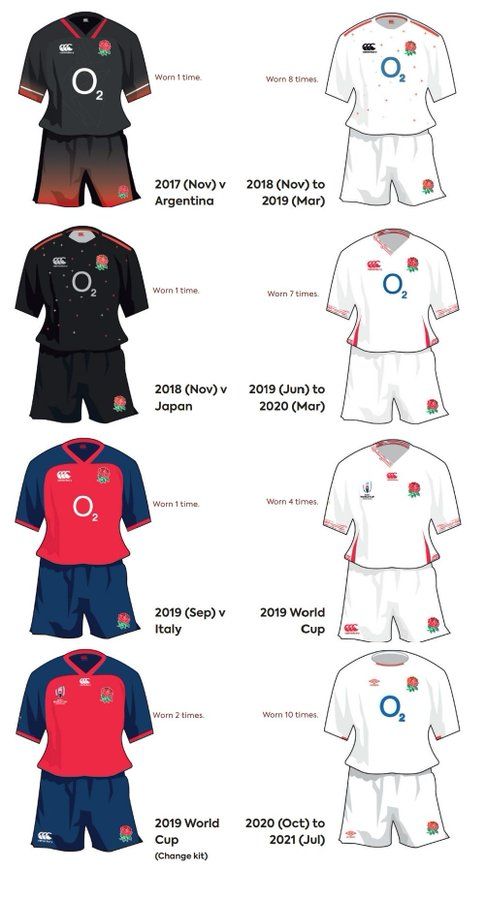 A third book in the series will follow in late 2023.
Order your copy: