As we approach the 2023 Rugby World Cup it seems a good time to revisit one of the more unusual matches from Wales's World Cup history. Due to the dreadful failure of Wales to emerge from the pool stages in the 1991 World Cup (despite all games being in Cardiff), the Dragons were forced to qualify for the 1995 edition.
This led to a series of qualifying games against Spain, Portugal, Romania and a pre-Six Nations Italy. It was the first time a major rugby nation had been asked to qualify for rugby's showpiece event. It was all the more surreal for the fact that Wales had won the 1994 Five Nations in what was a first title since the shared title of 1988 and the first outright title since 1979.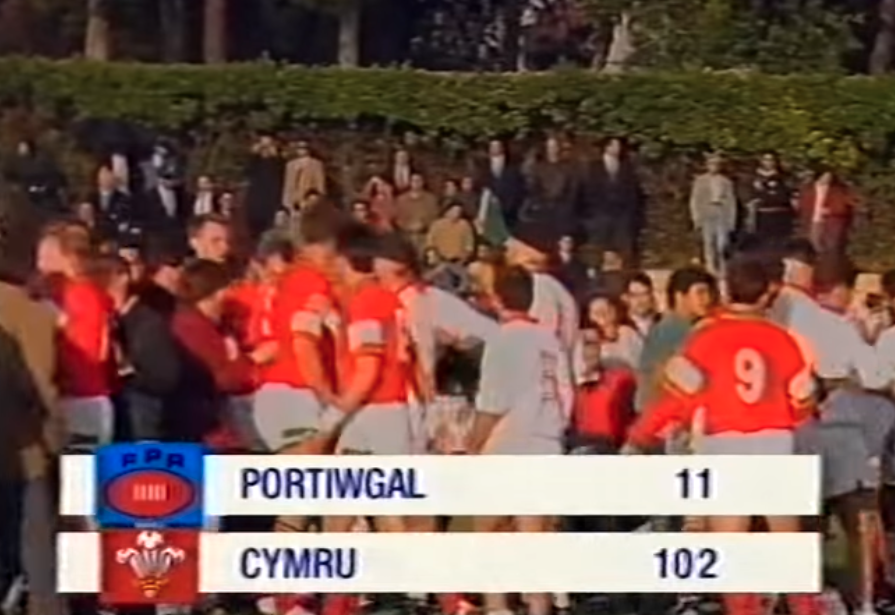 Wales face Portugal again in 2023. It will be only the second time the sides have ever met. Portugal eventually qualified for the 2007 World Cup and there is a fantastic preview of the 2023 team from Squidge Rugby you can watch to get up to date with the modern team.
Changing faces
For this qualifying campaign Wales were coached by Alan Davies and managed by Robert Norster. The pair took over in drastic circumstances in the summer of 1991 after Wales's humiliating tour of Australia under Ron Waldron, when the Welsh players fought among themselves during the post-match dinner after they had lost 63-6. With little time to change things, the new duo were unable to stop Wales falling in Cardiff to Samoa during the 1991 World Cup, but they did steady the ship and ultimately take Wales to the 1994 title (the first ever decided on points difference).
While Wales would qualify for the 1995 World Cup by beating Portugal 102-11, Spain 54-0, Romania 16-9 and Italy 29-19, Davies and Norster  would not make it to the 1995 World Cup themselves. They were fired after a following up the 1994 Five Nations title with a 1995 whitewash. Australian Alec Evans, coaching Cardiff at the time, was parachuted in to take Wales into the 1995 World Cup. The less said about that tournament from a Welsh perspective the better (the Ireland game in particular is a source of PTSD for many Welsh fans).
The match
Wales's clash with Portugal took place at Universitario Lisboa Estadio in Lisbon in May, 1994. It's unlikely you will ever see shorter rugby posts on a field in a Test match than were used here. Amusingly, before rewatching this game in 2023, The East Terrace's only real memory of the match was the local broadcasting crew (who clearly weren't rugby people) replaying almost every conversion, even the sitters from in front of the posts. You can see all these wonderful conversions in the full-match video at the end of this article.
As Wales were the away team, they wore red, with Portugal changing their jerseys. The away team changing is a tradition in rugby that is often ignored these days with even official kit suppliers frequently following the football trend of labelling alternate jerseys as 'away' kits. The Welsh kit was made by Cotton Traders and was only the second kit they had produced. The white bands and dragon logo on the arms split opinion wildly at the time and date the shirts massively when viewed today.
The game came one year before professionalism was to change rugby forever, so in theory both teams were amateurs. But as expected, the match wasn't much of a contest and for the first time Wales racked up a century of points. Nigel Walker's four tries in this match equalled the Wales record for one match that is shared with Willie Llewellyn, Reggie Gibbs, Maurice Richards, Ieuan Evans, Gareth Thomas, Shane Williams, Tom Shanklin and Colin Charvis. Welsh captain Ieuan Evans also came away with a hat trick, as did centre Mike Hall who would lead Wales in the 1995 World Cup.
In total Wales racked up 16 tries. Legendary scrum-half Robert Jones scored two, half of his career total over 58 tests. His only other try before this match had come in the 1987 quarter-final win over England in Brisbane.
The final result was the largest winning margin in Welsh history at the time and was only surpassed in 2004 when Wales dismissed Japan 98-0 in Cardiff.
The winning margin was also a record for any official World Cup match at the time, but was beaten the following day when Italy whipped the newly formed Czech Republic 104-8.
MATCH DETAILS
Portugal: Jose Gomes; Rodrigo Castro Pereira, Nuno Mourao, Tomaz Morais; Joao Queimado (c), Pedro Fernandes; Sergio Ferreira, Miguel Baptista, Paulo Domingos,
Antonio Pecas, Antonio Rebelo Andrade, Pedro Rogerio Arsenio, Paulo Picao Eusebio, Jose Pires
Replacements used: Eduardo Macedo, Antonio Cunha
Scorers:
Try: Murinelo
Pens: Gomes (2)
Wales: Mike Rayer; Ieuan Evans (c), Mike Hall,  Nigel Davies, Nigel Walker; Neil Jenkins, Robert Jones; Ricky Evans,  Garin Jenkins, John Davies, Tony Copsey, Gareth Llewellyn, Hemi Taylor, Emyr Lewis, Scott Quinnell
Scorers
Tries: Evans (3), Hall (3), Jones (2), Llewellyn, Quinnell, Taylor, Walker (4), Penalty Try
Cons: Jenkins (11)
Note: The caption on this video is incorrect, the final score, was 102-11, not 102-13
Support The East Terrace and buy our books
If you enjoy our blogs, why not buy one of our editor's book? 'An Illustrated History of Welsh Rugby: Fun Facts and Stories from 140 Years of International Rugby', which sold out within ten months of its February 2021 release, was revised and updated for a second edition in February 2022.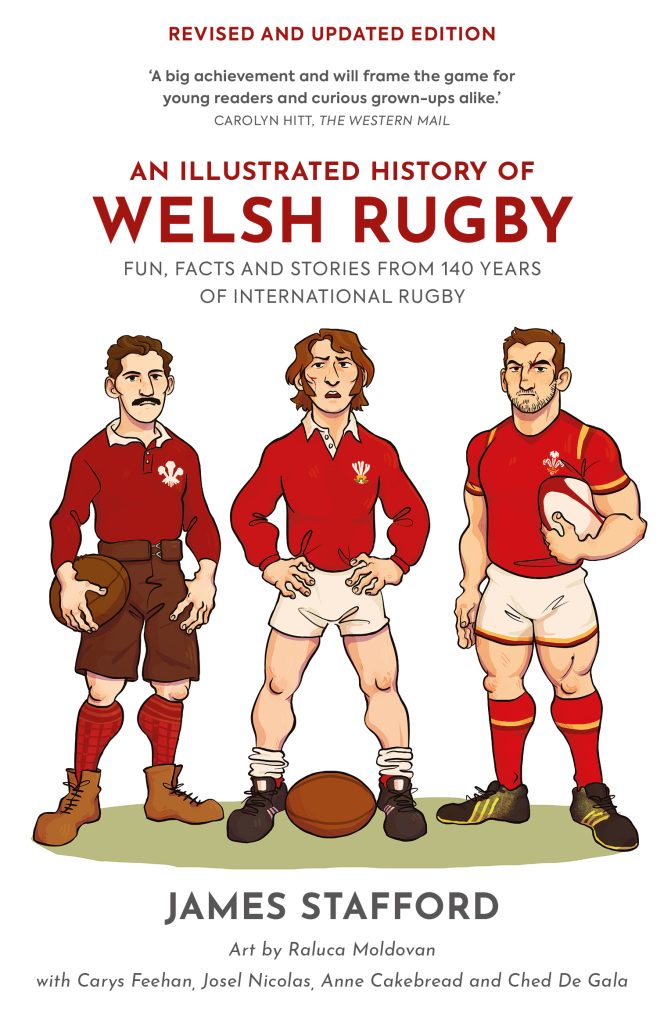 It's the first part in a trilogy of books and you can see all Stafford's other titles here.