Last week we took a look at how every Welsh coach has performed in the Five and Six Nations since the first coach was appointed ahead of the 1968 championship. We followed that with a look at the record for coaches against Ireland in the same period.
With Scotland next up for a bruised Wales in Cardiff, we've crunched the numbers for the coaching record against the men in blue.
Full record of Welsh coaches against Scotland in Five and Six Nations (1968 to 2021)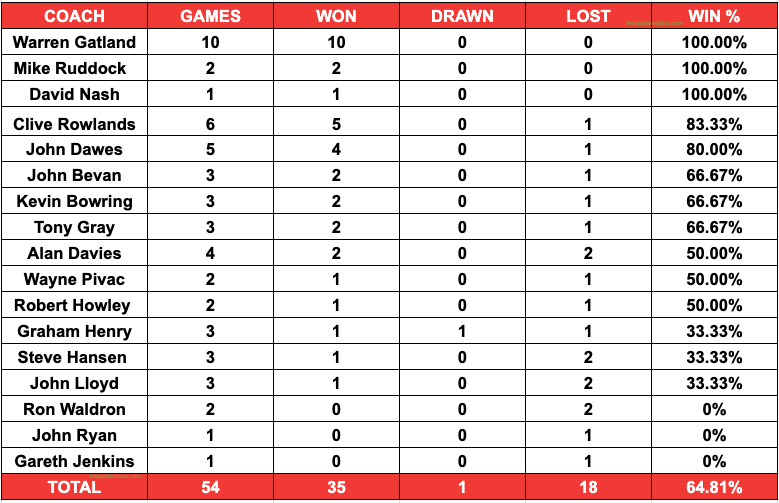 Wales have won 64.81% of games against Scotland since 1968 (Championship only counted here), and one game ended in a draw. The record is slightly more grim for the Scots in the Six Nations era, however. Since 2000, when the tournament expanded with Italy, Wales have won 16, Scotland five and there has been one draw, giving Wales a 72.72% win rate.
WALES in the coaching era (1968-2021)
Championships: 13 – 1969, 1971, 1975, 1976, 1978, 1979, 1994, 2005, 2008, 2012, 2013, 2019, 2021
Shared Championships: 3 – 1970, 1973, 1988
Grand Slams: 7 – 1971, 1976, 1978, 2005, 2008, 2012, 2019
Triple Crowns: 12 – 1969, 1971, 1976, 1977, 1978, 1979, 1988, 2005, 2008, 2012, 2019, 2021
SCOTLAND (1968-2021*)
Championships: 3 – 1984, 1990, 1999
Shared Championships: 2 – 1973, 1986
Grand Slams: 2 – 1984, 1990
Triple Crowns: 2 – 1984, 1990
*Bill Dickinson was appointed as first Scottish coach in 1971. The ultra-conservative SRU labelled him an 'advisor to the captain'.
Hammer of the Scots
Only three coaches have a 100% win rate versus Scotland. David Nash only coached one game, however, and Mike Ruddock just two.
Remarkably, Warren Gatland won all ten of his Six Nations meetings with the Scots (as well as a 2018 November Test not included in these figures). During Gatland's spell Howley coached two games while Gatland ran off with the Lions and managed a 50% record.
The Scottish simply couldn't get one over on Gatland. And if anyone believed they were cursed in this fixture while Warrenball was in operation, 2010 was their smoking gun.
It's worth noting that on three occasions in the Six Nations, Scotland have had a red card when playing the Dragons (you can see more of this here in our analysis of sending offs against Wales). The dismissals were in 2006 (under Ruddock and Wales won 28-18), 2014 (under Gatland and Wales won 51-3) and 2021 (under Wayne Pivac and Wales won 25-24).
Clive Rowlands and John Dawes have the kind of record you would expect from their coaching era (1969-74 and 1975-1979 respectively).
Graham Henry, who like Steve Hansen had a pretty poor return from the fixture, coached Wales to what was one of only three draws since the teams first met in 1883.
Steve Hansen's only non-Italy win in the Six Nations was over Scotland.
The current occupier of the hot seat, Wayne Pivac only has a 50% win rate in two games. The 2020 defeat was in Llanelli and was the first loss on home soil to Scotland since 2002. His win, as mentioned earlier, came against a Scottish team that had received a red card.
Now, go forth and argue about all the numbers.
If you would like to support The East Terrace, please consider buying the following books from editor James Stafford.
An Illustrated History of Welsh Rugby: Fun, Facts and Stories from 140 Years of International Rugby (Polaris Publishing)
How Wales Beat the Mighty All Blacks (Y Lolfa)
Available in all good bookshops or from Gwales: BUY HERE.