With the 2022 Six Nations upon us, we thought it would be the ideal time to look at the history of Welsh coaches in the Five/Six Nations. Wales first appointed a coach for the 1968 campaign, with former Welsh number eight David Nash taking the reins.
We aren't going to get into the tangled webs and weeds of the influence of coaching in the different eras or the circumstances each coach had to operate in — that's for people to argue over on Twitter or over a pint. We are just putting the stats out for people to enjoy. We've also added a 'non-Italy version' as, rightly or wrongly, people will ask for it.
If you like this kind of thing, we'll be adding some stats for coaches against individual teams. So later this week we'll put up the coaching records for Welsh coaches versus Ireland.
For those reading on your mobile, you may want to turn your phone to landscape mode from here on it.
Full record of Welsh coaches in Five and Six Nations (1968 to 2021)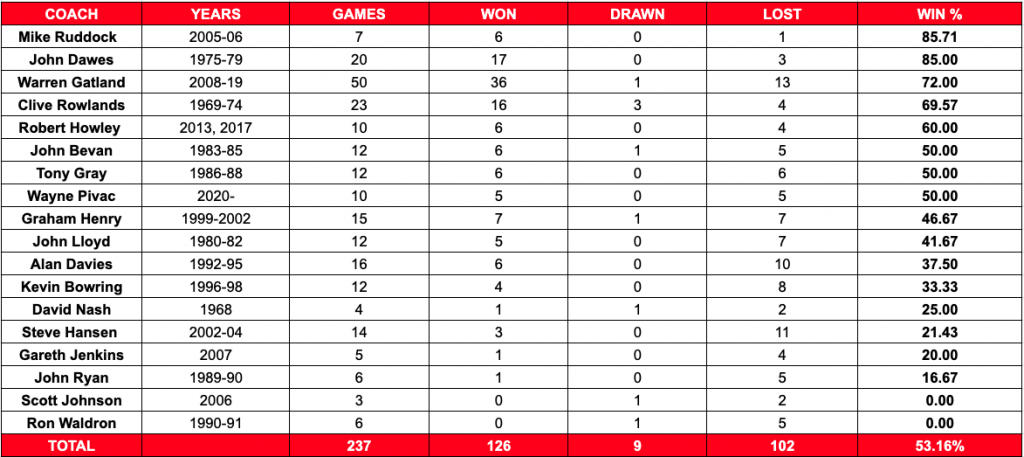 Full record of Welsh coaches in Five and Six Nations (excluding games with Italy)
It seems like a law that when looking at Six Nations stats, you need to produce a parallel set of figures in which near perennial whipping boys of Italy are removed from the equation. So, here is the same list but Italian free. Steve Hansen, even with his loss to Italy removed here, may want to look away.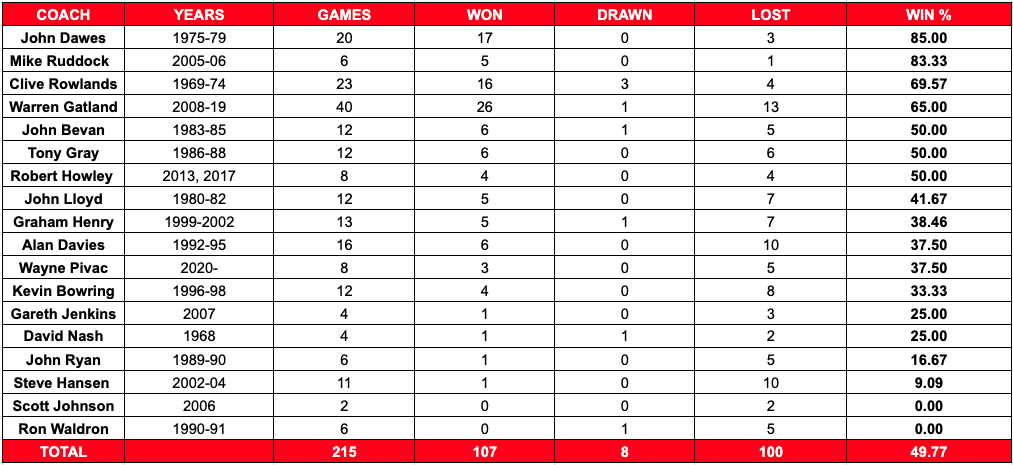 List of honours and horrors of Welsh coaches (full season records only)
Below is a table listing the honours and dishonours won by each coach in the Championship. We've removed partial seasons, as it gets too complicated then. For instance, the 1990 whitewash fell under John Ryan** (who resigned after a horror show at Twickenham) and Ron Waldron**. It isn't really fair to throw that stat on the former Neath coach, so we've removed it from the table. Similarly, other coaches such as Graham Henry*** and Steve Hansen*** split a season. Scott Johnson, who was a caretaker for part of the 2006 season is not featured here.
It's also worth noting that Clive Rowlands* had Wales at three wins and no losses in 1972, but was denied a shot at the title and Grand Slam due to the WRU and SRU deciding not to risk a visit to Dublin due to the political situation at the time and threats against players.
It was not possible after 1993 to share a finishing position in the Championship as points difference was finally introduced into the tournament to separate teams. That gave Wales a title under Alan Davies, but spared Wales several last places finishes too (especially in the Six Nations era from 2000 onwards).

Now, go forth and argue about all the numbers.
If you would like to support The East Terrace, please consider buying the following books from editor James Stafford.
An Illustrated History of Welsh Rugby: Fun, Facts and Stories from 140 Years of International Rugby (Polaris Publishing)
How Wales Beat the Mighty All Blacks (Y Lolfa)
Available in all good bookshops or from Gwales: BUY HERE.