Continuing our look at the history of Welsh coaches in the Five and Six Nations, today we analyse Wales's results against France since David Nash was appointed as the first Welsh coach in 1968. A quick reminder before we start, this series only looks at Five and Six Nations games and does not consider World Cup clashes or non-Championship clashes with France.
Full record of Welsh coaches against France in Five and Six Nations (1968 to 2021)
Our previous columns showed that Wales have a 47.17% win rate against Ireland in this period (25 wins, 3 draws, 25 losses), a 64.81% success rate against Scotland (35 wins, 1 draw, 18 losses) and a 48.15% success rate against England (26 wins, 2 draws, 26 losses). Wales's win rate against France sits at just 38.89%.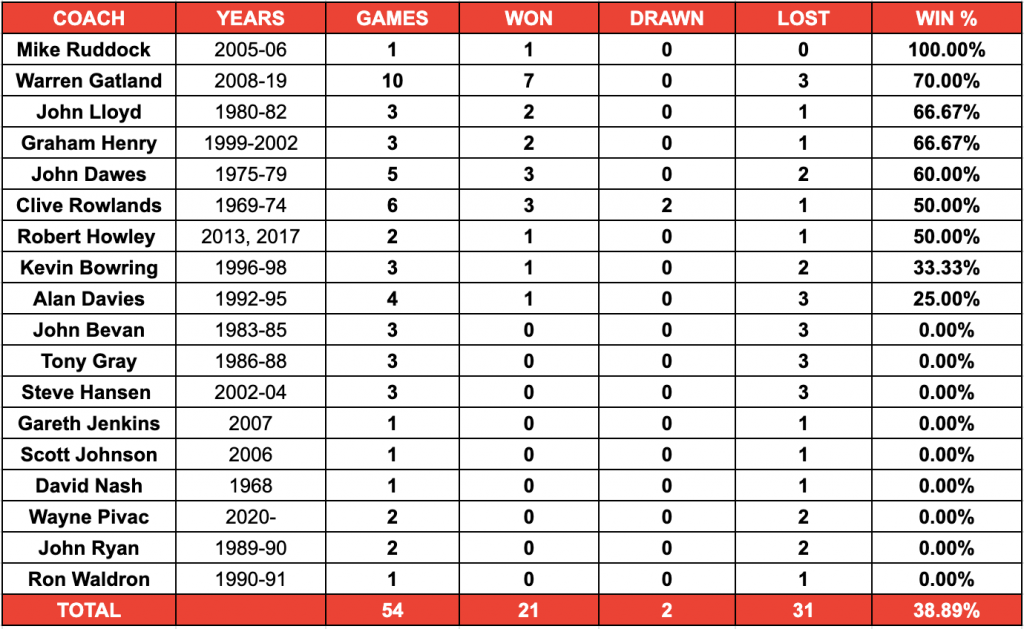 These low stats are hugely influenced by a dreadful period where Wales, after beating France 22-12 in Cardiff in 1982, failed to triumph in the fixture again until 1994 during the reign of Alan Davies (when Wales unexpectedly claimed their first outright title since 1979).
France are the only team in the tournament who have a better collection of Championship titles than Wales in the coaching era. Both sides have 13 outright titles, but France have two more shared titles and two more Grand Slams. Interestingly, France's 1968 Grand Slam was their first ever, meaning all their Grand Slams have come in the coaching era.
WALES in the coaching era (1968-2021)
Championships: 13 – 1969, 1971, 1975, 1976, 1978, 1979, 1994, 2005, 2008, 2012, 2013, 2019, 2021
Shared Championships: 3 – 1970, 1973, 1988
Grand Slams: 7 – 1971, 1976, 1978, 2005, 2008, 2012, 2019
Triple Crowns: 12 – 1969, 1971, 1976, 1977, 1978, 1979, 1988, 2005, 2008, 2012, 2019, 2021
France (1968-2021*)
Championships: 13 – 1968, 1977, 1981, 1987, 1989, 1993, 1997, 1998, 2002, 2004, 2006, 2007, 2010
Shared Championships: 5 – 1970, 1973, 1983, 1986, 1988
Grand Slams: 9 – 1968, 1977, 1981, 1987, 1997, 1998, 2002, 2004, 2010
Triple Crowns: (N/A)
*France are the only team to have appointed a coach in the Five Nations prior to Wales, with Jean Prat being appointed in 1963. 
Dawes drops in table of woe for most Welsh coaches
In our previous tables in this series, John Dawes has been overall top dog with a 100% win rate against Ireland, 80% against Scotland and 100% against England. Here he drops to 60%, a stat reflecting the power of the French team of the era. Although, despite the trouble they caused Wales, the French only won one Grand Slam and outright Championship in the 1970s.
Warren Gatland has by far the most respectable record among Welsh coaches in this series, with an impressive 70% win rate from ten games (Mike Ruddock has the only 100% win rate, but he only faced the French once — admittedly earning an impressive win in Paris).
Amazingly, half of all Welsh coaches have never won against France in the Championship. Steve Hansen, John Bevan and, surprisingly perhaps, Tony Gray, lost three out of three clashes, making them the least successful of all the coaches sat on 0%.
One coach who redeems himself in this edition of our coaching series is Graham Henry, who enjoyed two spectacular wins in Paris, the first of which was the first Welsh win in the French capital in 24 years. Oddly, sandwiched between those victories was a 36-3 stuffing in Cardiff. It leaves Henry with a 66.67% win rate — his win rates were 33.33% against England and Scotland and 25% against Ireland.
Wayne Pivac sits among the 0%s. Will he manage to avenge the most heartbreaking of all the losses since 1968 this Friday?
Now, go forth and argue about all the numbers.
If you would like to support The East Terrace, please consider buying the following books from editor James Stafford (follow him on Twitter at @jpstafford).
An Illustrated History of Welsh Rugby: Fun, Facts and Stories from 140 Years of International Rugby – 2022 Revised and Updated Edition now available (Polaris Publishing)
How Wales Beat the Mighty All Blacks (Y Lolfa)
Available in all good bookshops or from Gwales: BUY HERE.