On October 22nd, 2021, East Terrace editor, James Stafford, releases 'How Wales Beat the Mighty All Blacks'.
Illustrated by Carys Feehan and published in hardback by Y Lolfa (edited by Carolyn Hodges), the book tells the story of rugby immortal Gwyn Nicholls and his comeback to face the legendary 1905 All Blacks.

While aimed at children, the book will appeal to rugby loves of all ages, with Feehan's gorgeous artwork bringing Edwardian era rugby and Welsh society vividly to life.
Preorder now
You can preorder from all good bookshops and online retailers, including:
A legend begins
The 1905 New Zealand 'Originals' transformed rugby forever. The fitness, innovation, skills and tactics they displayed shocked European rugby and forced the teams of the 'Mother Country' to evolve their entire approach to the game. Of 35 games played (including fixtures in North America), New Zealand won 34. In the era of the three point try, they outscored their opponents by an astonishing 976 points to 59.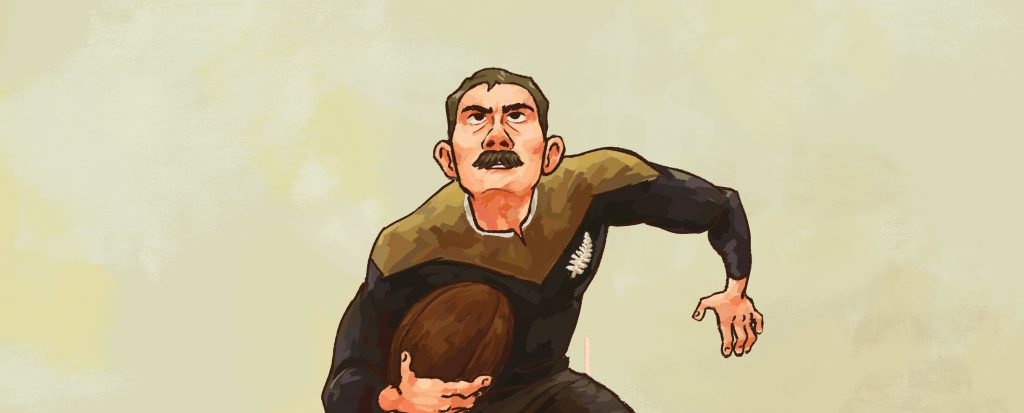 The solitary defeat was to the Welsh, in what was seen as an 'unofficial world championship' match. The game has entered rugby folklore and the controversy of the disallowed New Zealand try is still discussed today whenever the teams face each other.
'How Wales Beat the Mighty All Blacks' tells the story of that game for young readers by focusing on Welsh captain Gwyn Nicholls. Known as the 'Prince of Centres' or 'Prince of three-quarters', the Cardiff legend was in retirement when the All Blacks arrived in Britain. However, a combination of pleas from the media and fans, as well as the thrill of the challenge, brought him back to the cauldron of Cardiff Arms Park.

Bringing rugby history to life
The book is the second rugby book from Stafford this year. In February, 'An Illustrated History of Welsh Rugby' (illustrated by Raluca Moldovan) was released by Polaris Publishing to critical acclaim.
It has already become an Amazon best seller. In 2022 the follow up volume 'An Illustrated History of English Rugby' will be released. To stay in the loop about these and other books from Stafford, follow him on Twitter at @jpstafford.