Who are the most successful head coaches in Welsh international history, and why is Tony Gray's record consistently misreported?
There are few things so addictive to the sports fans as statistics. And there are few things so consistently misleading or open to flawed interpretation as statistics. But sports people love lists. A list detailing the success rate of head Welsh coaches is about as open to misuse as any set of sporting stats can be. Comparing the (relatively) minimal influence of David Nash over a team from the amateur era to that of Wayne Pivac's over full time pros training in a COVID-19 bubble is all but useless. But, sports people like lists and they always create food for thought. Even if everyone digests that food differently. 
After painstakingly building a database of Welsh Test results with my father for my book An Illustrated History of Welsh Rugby: Fun, Facts and Stories from 140 Years of International Rugby (out February 11, 2021 from Polaris), I was able to pull out the results by coach and year. Interestingly, a lot of the tables used by journalists, writers and fans to compare Welsh coaches are incorrect. Tony Gray, in particular, is usually given a significantly incorrect win rate (we address this later in the post). 
Heavy is the head that wears the crown
Below is the win record of all Welsh head coaches since 1967, when David Nash made history and angered traditionalists by becoming the first national coach of Wales. The table will do little to advance theories for and against who can be considered the greatest head coach. Each era has its own problems and advantages, limits and opportunities, talent pools and bare cupboards. We present without comment or passing judgement.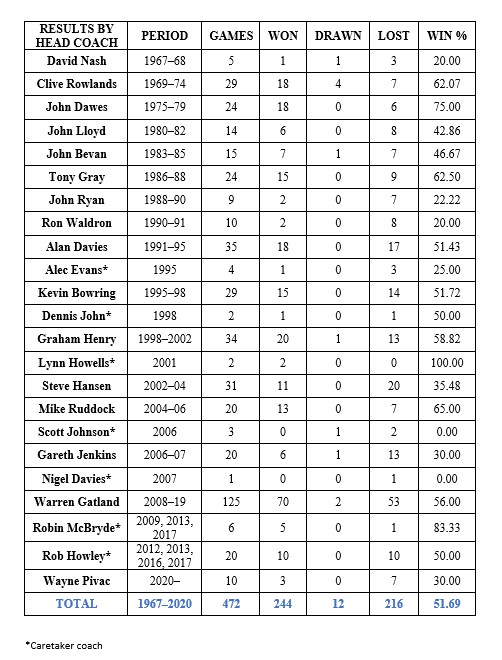 To satisfy my own curiosity, I've also calculated how Wales did from 1881 to 1967 without a coach. Wales played 271 games in this period, winning 53% of all their matches. Before some wit suggest Wales return to these simpler times, Wales's opponents, of course, also lacked head coaches. 
Welsh record without head coaches

Shades of Gray
Strangely, Tony Gray's win percentage and coaching record has been constantly misreported. In the dismal decade that was the 1980s in Welsh rugby, only one coach led Wales to any kind of success that's recognised in the record books. Tony Gray took Wales to third place in the 1987 World Cup and then followed up with the 1988 Triple Crown. The former still stands as Wales's best result in the global tournament and the latter was the only time the men in red claimed the Triple Crown between 1979 and 2005. 
Yet, journalists, rugby websites, stat books and even the Welsh Rugby Union (until we recently contacted them about it) have been presenting completely the wrong stats for Gray. Tony Gray has is frequently listed as having coached Wales for 18 internationals with a 50% win record (see an example here). 
While putting together statistics on the Welsh coaches for my book, I discovered the numbers didn't add up. After hours of double checking to make sure I wasn't going mad, I concluded that from his appointment to his dismissal in the summer of 1988, Wales played 24 internationals for which full caps were awarded, not the 18 frequently listed. 
Interestingly, during his time in the hot seat, Wales played six games against what were then non-International Board countries: Canada, Western Samoan, Tonga (twice), Fiji, and the USA. All of these were full cap games, but perhaps, bizarrely, someone a long while back took the view these wouldn't count. That may not be the case, but it would fit with some of the more old-fashioned rugby thinking that prevailed in much of the game at the time. 
Each of those six games was a win for Wales.  When correcting the winning record for Gray, we find ourselves adding six victories, taking his win percentage from 50 to 62.5. Quite a difference. After reaching out to the WRU on the matter, they quickly confirmed that my figure was correct and updated the website. But we also found that Steve Hansen's record is reported differently on many sites too. The WRU also confirmed our take on Hansen's number. We have him with 31 games and 11 wins (most sources have him at 29 and 10 respectively).
We hope you enjoy the table and make the most of it to hold up any theories, flawed or otherwise, on who sits at the top of the head honchos in Welsh rugby history. 
Order your copy of An Illustrated History of Welsh Rugby: Fun, Facts and Stories from 140 Years of International Rugby here. The main image of Graham Henry for this article is by Raluca Moldovan and taken from the aforementioned book.