NOTE: When this article was originally syndicated on scrum.com from the old East Terrace site, the WRU actually got in contact with the scrum.com editorial team and wanted it made clear the article was a spoof. Yes, this actually happened.
The Welsh Rugby Union is under intense fire from animal rights group after being accused of animal cruelty.
Just days after the WRU revealed its new bright yellow 'change' playing strip, animal rights groups have come forward with shocking claims relating to the manufacturing of the high-tech jerseys.
According to PETA (People for Ethical Treatment of Animals) each of the new yellow Welsh jerseys requires the plumage of up to forty dead canaries to produce their distinctive bright yellow hue.
Alice O'Leary, a senior PETA representative, has blasted the WRU for putting 'fashion before compassion'.
"Quite why Welsh Rugby suddenly needs to dress itself in yellow after 127 years of rugby is beyond me," said O'Leary. "The cost of this fashion faux-pas is the needless death and suffering of countless birds so that their plumage can be utilised to produce a garish yellow cloth dye."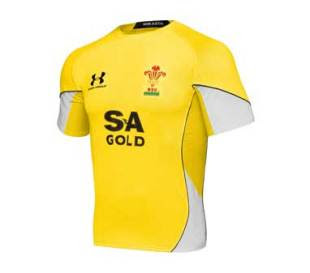 A Welsh rugby union spokesperson has defended the use of canary feathers in the production of the new jerseys.
"We wanted to produce a jersey unique to Welsh rugby," said Stephen Edwards. "The choice of canary feathers was made as we wanted to produce a shirt relevant to the proud traditions and cultures of our land. Canaries were used in the Welsh coal mines to help warn miners of gas leaks. We think the use of canary yellow for our national shirts helps symbolise our proud industrial heritage."
The Welsh Rugby Union also claim that up to 60% of the canaries used will be direct descendants of canaries used in the Welsh mines, bringing a 'stronger emotional connection' between product and nationhood.
"These aren't just any old over the pet-shop-counter canaries," said Edwards. "We use mainly Welsh reared birds. I'm sure that the canaries are proud to represent the country of their birth in whatever way possible, especially as their traditional livelihood of mining has been taken from them in recent times due to the closure of the pits."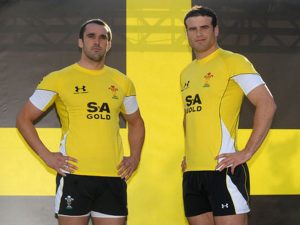 As well as condemning the WRU for its use of canary plumage, PETA also claim that the canaries are killed in the most cruel, merciless way possible.
"We have strong evidence," said O'Leary, "that the canaries are killed by a prolonged exposure to Super 14 ELV rugby. The defenceless birds are laced in tight, crammed cages located just yards from a continuous video loop of the 2008 Super 14 season. After being exposed to an almost endless sequence of plays based around an ongoing succession of free-kicks, the birds eventually die of complete boredom. Their bodies are then stripped of their feathers and used for the dye to create the Welsh shirts."
PETA also feel that as well as demeaning the birds by using them to make shirts for players, the sales of replica shirts to 'beer-swilling' fans is a further insult: "To think of these beautiful canaries being destined to make what is effectively a bib for grown men to cover in beer and curry stains is a depressing one."
The jersey is considered the worst animal right atrocity in rugby since Stade Francais killed thirty thousand flamingos to make its first all pink jersey a couple of years ago.
This article was syndicated on scrum.com in November 2008.
Editorial Note (and not a spoof): The Welsh Rugby Union has requested that we make it clear that this article is not based on fact and that no canaries were harmed in the production of their new playing kit.